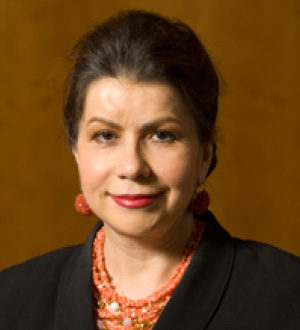 Carmen M. Reinhart
(USA)
Carmen M. Reinhart es la Profesora Minos A. Zombanakis del sistema financiero internacional en Harvard Kennedy School.
Fue Profesora de Economía y Directora del Centro de Economí­a Internacional de la Universidad de Maryland y Economista Principal "Dennis Weatherstone" en el Peterson Institute for International Economics. Ella recibió su doctorado de la Universidad de Columbia. Fue Economista Jefe y Vicepresidenta del banco de inversión Bear Stearns en los ochentas, donde comenzó a interesarse por las crisis financieras, contagios internacionales y los ciclos de los precios de los commodities. Luego, pasó varios años en el Fondo Monetario Internacional. Es Investigadora Asociada en el "National Bureau of Economic Research, NBER", investigadora en el "Center for Economic Policy Research" y miembro del "Council on Foreign Relations".
La doctora Reinhart ha servido en numerosos comités editoriales, paneles, y ha testificado frente al congreso de los Estados Unidos. Ella ha escrito y publicado acerca de una variedad de temas macroeconómicos y de comercio y finanzas internacionales: flujo internacional de capitales, tipos de cambio, inflación y precios de commodities, banca y crisis de deuda soberana, colapso de monedas, y contagios. Sus papers han sido publicados en los principales journals académicos, incluyendo el "American Economic Review", el "Journal de Political Economy", y el "Quarterly Jounral of Economics". Su trabajo ha ayudado a entender las crisis financieras por más de una década. A inicios de los noventas escribió (junto a Guillermo Calvo) sobre la inconsistencia de los flujos de capitales a los mercados emergentes y la posibilidad de cambios bruscos antes de la crisis Mexicana de 1994-1995. Antes de la crisis asiática (1997-1998), documentó (junto con Graciela Kaminsky) acerca de las conexiones históricas internacionales entre burbujas del precio de los activos y crisis bancarias, y como estas últimas pueden liderar a colapsos de monedas generando "crisis gemelas". Ella identificó (junto a Ken Rogoff) la posibilidad de desplazamientos económicos severos de la crisis subprime en el 2007. Su trabajo figura frecuentemente en la prensa financiera de todo el mundo, incluyendo "The Economist", el "Financial Times", el "Washington Post", el "New York Times", y el "Wall Street Journal". Ella ha hecho apariciones en CNN, CSPAN, BBC, y NPR, entre otros. Su libro (cuyo coautor es Kenneth S. Rogoff) se titula "Time is Different: Eight Centuries of Financial Folly" (Princeton Press), el cual documenta las sorprendentes similitudes de los altibajos recurrentes que han caracterizado a la historia financiera.